Address: Ruko Crown Golf blok A no 31, RT6/RW2, Pantai Indah Kapuk, Kamal Muara, RT.6/RW.2, Kamal Muara, Penjaringan, Kota Jkt Utara, Daerah Khusus Ibukota Jakarta 14460, Indonesia


What I ordered : Dol Sot Bi Bim Bap, Mango Juice


I came here first asking whether the meals served is halal and one of the waitress said that beef and soups here are halal but pork is not. I usually not eat unless they have halal written on the menue but I decided to trust her and eat here. Bismillah. She showed me where to sit and give the menu.






I wanted to try Korean BBQ but thinking how big the portion will be and whether I have to grill it myself and kinda worried how the taste will become if I cook it myself (like I see Koreans in TV) so I decided to taste something ready cooked and ordered Dol Sot Bi Bim Bab. I didn't know that the waitress grilled the BBQ for us, I should've tried the BBQ then.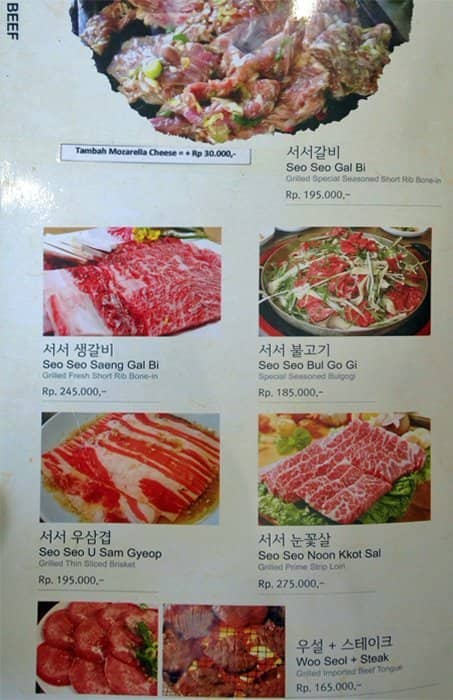 What I like here is that they put a bottle of cold ocha (taste like a light tea) for free so I can refill as much as I want (I drink water a lot). Then they put 6 different banchan (side dishes) for free: panjeon (vegetable pancake), sweet potatoes, kimchi, salted cucumber, pickled raddish, and one green vegetable (I don't know what it is called). I like panjeon the most.
I really appreciated they told me when to break my fasting as there is no adzan in PIK. And I can hear the lady told them to give me banchan fast so I can eat it first while waiting for my order.
Not long after (the service is quite fast), the mango juice and Bi Bim Bab came. And miyuku soup (Sup rumput laut in indonesian) as a complementary dish (A birthday here would be great). They give the sauce to mix with Bibimbap separately. It was served on stoned pot so it was sizzling hot for quite a while. I like it because if not, usually the meal would cool off fast and if we take a while to eat, we end up eating cold dish. Overall the taste is quite fine. At the end they give an ice cream as dessert (free again).
As the entertainment they have SBS live on TV broadcasting the kpop music performances.
For the generousity, service, and price I give it 5 stars. This is the most generous restaurant I ever been. And value for money is excellent.



For the taste I give it 4 stars. There is room for improvement.
My first suggestion would be to put a logo of halal in certain dishes which are really halal (whether the beef which is imported is really halal is questionable for me). I know pork is not halal but other dishes could be not halal if they are cooked with the same pan used to cook pork. If logo halal is written, it could gave muslim guests a peace of mind. As the largest community in Indonesia, it would be great to target the muslim consumers also especially because the hallyu wave is spreading much.
Secondly, it also would be great if this place could accomodate single guest. For example by making small portion choice on each of the menu. Even Bibimbap portion is too big for me (I forced myself to eat more but ended up too full to finish the meal). I would also want to try the Beef BBQ if there is small portion (but then again am worried about halal as the grilled pan is the same for pork).
Overall, I had a good time here.
Disclaimer: Pictures are not mine, from various sources on the internet, all rights to websites or the uploaders.